Located in the Village behind Spotsylvania Towne Centre - Children can stay at Wiggle Worms for up to 5 hours a day.
Our child care center focuses on providing a safe, secure, fun atmosphere, allowing you to feel confident in leaving your children in our care for a few hours of enjoyment. Our staff is certified in first-aid and CPR , has worked with children in the past and has had extensive background checks completed.
For more information or to reserve your child's spot visit www.wigglewormsfxbg.com
Monthly Preschool Program
Monday, Wednesday, Friday
A. 9:30-12:30 ($243)
B. 9:30-2:30 ($405)
Tuesday, Thursday
A. 9:30-12:30 ($162)
B. 9:30-2:30 ($270)
Monday, Tuesday, Wednesday, Thursday, Friday
A. 9:30-12:30 ($405)
B. 9:30-2:30 ($675)
Each day is limited to 12 children - Children will have a small social circle, and will see the same classmates every day
Preschool program includes structured activities and unstructured playtime
---
Looking for some at home fun?
A playful, fun filled approach to learning! Our unique kits will surely spark your child's love of learning and keep your preschooler or kindergartener engaged. Kits include all materials your child will need to complete each activity. A least 2 of the 5-7 STEM activities and crafts are reusable. Follow along with demonstrations and variations on Facebook or YouTube @wigglewormsfxbg
---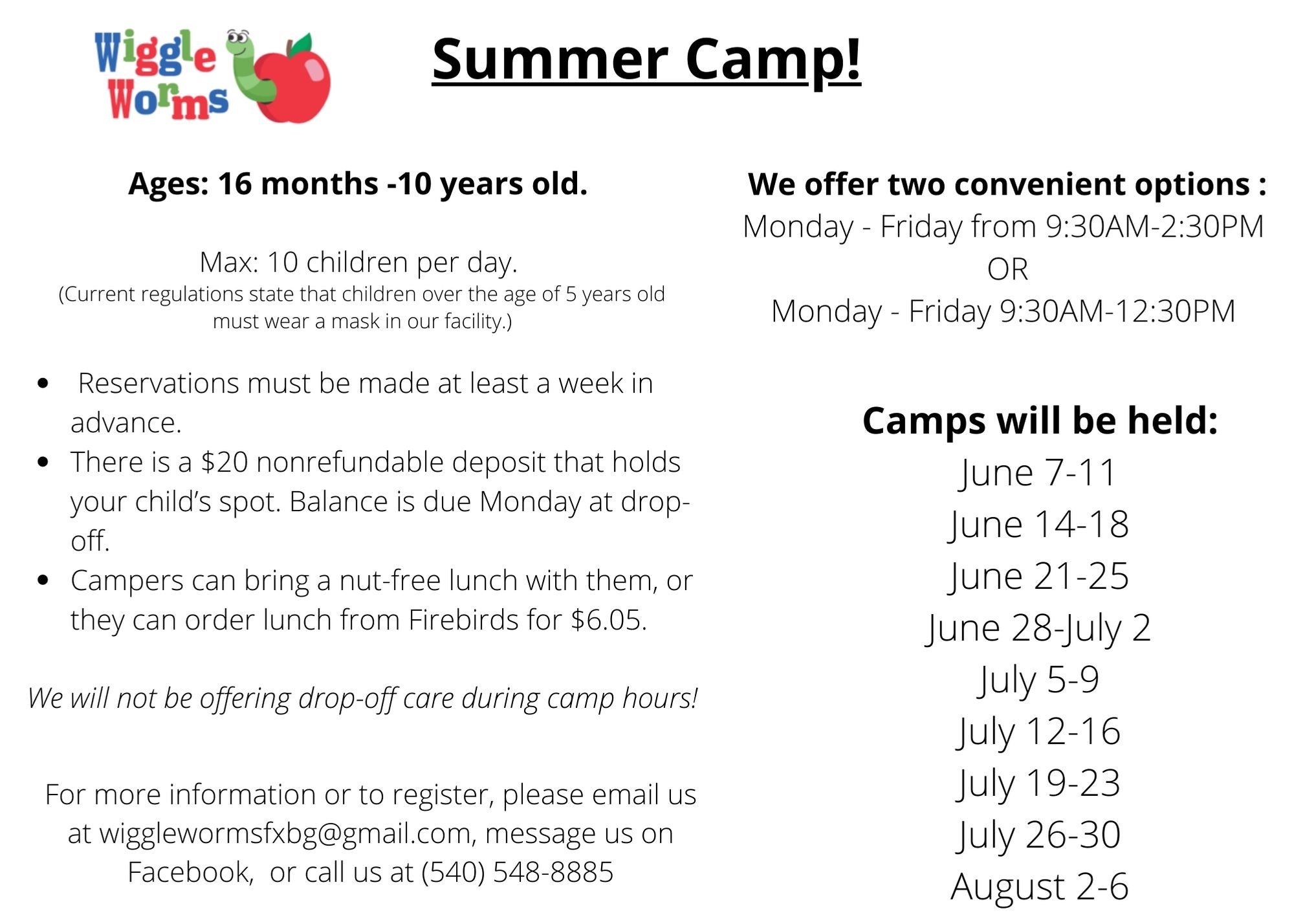 Business Review
Their new location is wonderful! The walls are painted in fun colors, there are lots of activities for the kids to do, and the caregivers are great! Plus, I love that there is the option to order the kid's a meal if they will be there during meal time.
---
The Wonder Kits are so much fun! You can choose a subscription or order individually by topic!
---