Listings will be added to this guide often over the coming weeks.
Bookmark this page & check back often!

Summer Camp Virtual Fair Saturday, May 8th!
Click Here for our Summer Camp Virtual Fair
Videos will be available for you to watch at your convenience any time through June!

Fredericksburg,
Spotsylvania & Stafford

Why should you send your child to a Fredericksburg, Spotsylvania, or Stafford summer camp? Summer camps are a great time for kids to try new things, nurture unique interests, meet new friends, stretch their creativity, and have tons of Fredericksburg, Spotsylvania, and Stafford summer fun! You're guaranteed to find something on this list of Fredericksburg, Spotsylvania, and Stafford summer camps that your kid will be excited about!
Want to see your camp featured in the 2021 Macaroni Kid Fredericksburg Summer Camp Guide? Email us today!
🌞 Click on the Business Name or Logo for complete details! 🌞
Camps are listed alphabetically.
Featured Camps
Fredericksburg Parks & Recreation
Fredericksburg Parks, Recreation and Events is offering camps for 3 years old through teens! We have a variety of camps to encourage your young ones to explore, learn, play and enjoy their summer like kids!! We are excited to offer camps for STEM, Cooking, History, Acting, Horseback Riding, Spa, Nature, Soccer, Field Hockey, Tennis, Baseball, Golf, Lacrosse, Volleyball, and All Sports. Swim Lessons will be offered at Buffett Pool. And we offer a variety of regular programs and events throughout the summer too! Get out and play with us this season.
Registration opens for City of Fredericksburg Residents on Monday, March 29 at 9:00 am and for Non-City Residents on Monday, April 5 at 9:00 am. All camp registration is online only. Find all of our camp information online at https://www.fredericksburgva.gov/989/Summer-Camps
All of our programs follow Covid-19 safety protocols. Masks are required for indoor programs. For outdoor programs, masks are required when social distancing cannot be maintained.
Camp FA - Fredericksburg Academy
12 Weeks: June 1 - August 20, 2021
Rising Kindergarten (age 4) through Grade 12
At-a-Glance Calendars: Summer Sports Academy (PDF) All Camps (PDF)
In Person Camps:
| | | |
| --- | --- | --- |
| Half Day Adventures | Multi Sport Camp | Week of Rivers |
| All Day Adventures | Rock Climbing | FA to Broadway |
| Nature Explorers | Outdoor Watercolor Adventures | D&D with 3D Printing |
| Archery | Born 2 Win Basketball Camp | Lacrosse |
| Field Hockey | Soccer | Tennis |
| Architecture: 2D & 3D | Junior River Rangers | Archery, Jr. |
| Rock Climbing - Fathers & Teens | Disc Golf & Ultimate | Local Play, Jr. |
| Dance | Cartooning / Graphic Novel | Goodies & Good Books |
| Young Chefs | Lego Camp | Tunnels, Forts and Mazes |
| Mountain Biking | Mural Painting | Play Local |
| Outdoor Adventures | Paddlesports | Stage Combat |
| Frozen - Singing Camp | Storytelling through dance | Improv 101 |
| Around the World Cooking | Adventures in Writing | Creative 3D Printing |
| Horseback Riding | Cross Country | Art Camp |
| Climbing Camp | Steam Academy | Afternoon Explorers |
Extended morning camp and Extended Afternoon Camp options available.
Online Camps:
| | | |
| --- | --- | --- |
| eSports Apprentice | ROBLOX Makers | Minecraft Animators |
| JavaScript Developer Jam | Python Programmers | Minecraft Redstone Engineers |
| Make Your First Video Game | Battle Royale | YouTube Content Creators |
| ROBLOX Coders | Inventor's League | Code Breakers |
| YouTube FX Masters | Virtual Reality | Rocket Kart Racers |
| Minecraft Modders | App Attack | 3D Game Design with Unity |
| Code Your Own Adventure: Interactive Storytelling | App IO: Make your first Multiplayer App | Pokemon Masters: Designers & 3D makers |
| Video Game Animation | Minecraft Designers | |
| | | |
Refresh your child's swimming skills for the summer! Summer Swim Camp is a fast-paced learn to swim environment. These sessions will span 2 weeks, Monday – Friday, for a total of 10 lessons. All lessons will be 30 minutes long. Lesson times will be between 10:00 AM and 12:00 PM.
CS1: June 1-June 11 (Fredericksburg and Spotsylvania Only)
CS2: June 14-June 25 (Fredericksburg and Spotsylvania Only)
CS3: June 21 – 25 (Stafford Only)
CS4: June 28-July 9 (All Locations)
CS5: July 12-July 23 (All Locations)
CS6: July 26-August 6 (All Locations)
3 Locations to choose from:
Fredericksburg

1666 Central Park Blvd

Fredericksburg, VA 22401




Spotsylvania

6301 Campus Drive
Fredericksburg, VA 22407




Stafford

1600 Mine Road
Stafford, VA 22554



Salem Fields Learning Center
Parents we would love for your child to join us for our summer camp experience this summer. Our summer camp is for students in Kindergarten through 8th grade with full and part-time options available. There will be field trips, swimming, on-site shows and guests, and engaging daily activities, crafts, and games.
To register or for more information call 540-786-6292 or email learningcenter@salemfields.com
Give your children a chance to get involved with all things animal this summer and learn how they can be animal advocates within the community!
This summer camp is designed to provide your child with a better understanding of animal-related career fields, how to provide proper daily care for animals and what we do here at the Fredericksburg SPCA!
Each week-long session is Monday through Friday from 9 am to 12 pm hosted in-person at the SPCA.
June 21st - June 25th // ages 6 - 9
June 28th - July 2nd // ages 10 - 13
July 5th - July 9th // ages 6 - 9
July 12th - July 17th // ages 10 - 13
July 19th - July 23rd // ages 6 - 9
July 26th - July 30th // ages 10 - 13
Childtime of Fredericksburg
Childtime® in Fredericksburg 10628 Courthouse Road, Fredericksburg, VA 22407

Programs for infants to school-age: 6 weeks to 12 years.

Childtime® in Fredericksburg is opening soon and offers nurturing care and creative learning experiences. Following CDC guidance, we provide a healthy, safe environment. Our School Readiness Pathway offers customized curriculum in programs for infants to school-age students. Plus, our Grow Fit® initiative ensures the complete well-being of your growing child through healthy living, nutritious eating, and physical fitness. We keep families connected with livestreaming video and real-time mobile updates. And ask about our flexible scheduling options. Learn more: 540.302.6833 or Childtime.com.
Summer Camp Deals with CertifiKid



Macaroni Kid Fredericksburg will be bringing you a wide variety of local camps to make sure you're informed and ready to make the best decision for your kids' summer. Listings will be added to this guide often over the coming weeks. Bookmark this page & check back often!
Are you a local camp that would like to be in our Summer Camp Guide?
Email JennySites@macaronikid.com to reach over 10,000 local subscribers each week!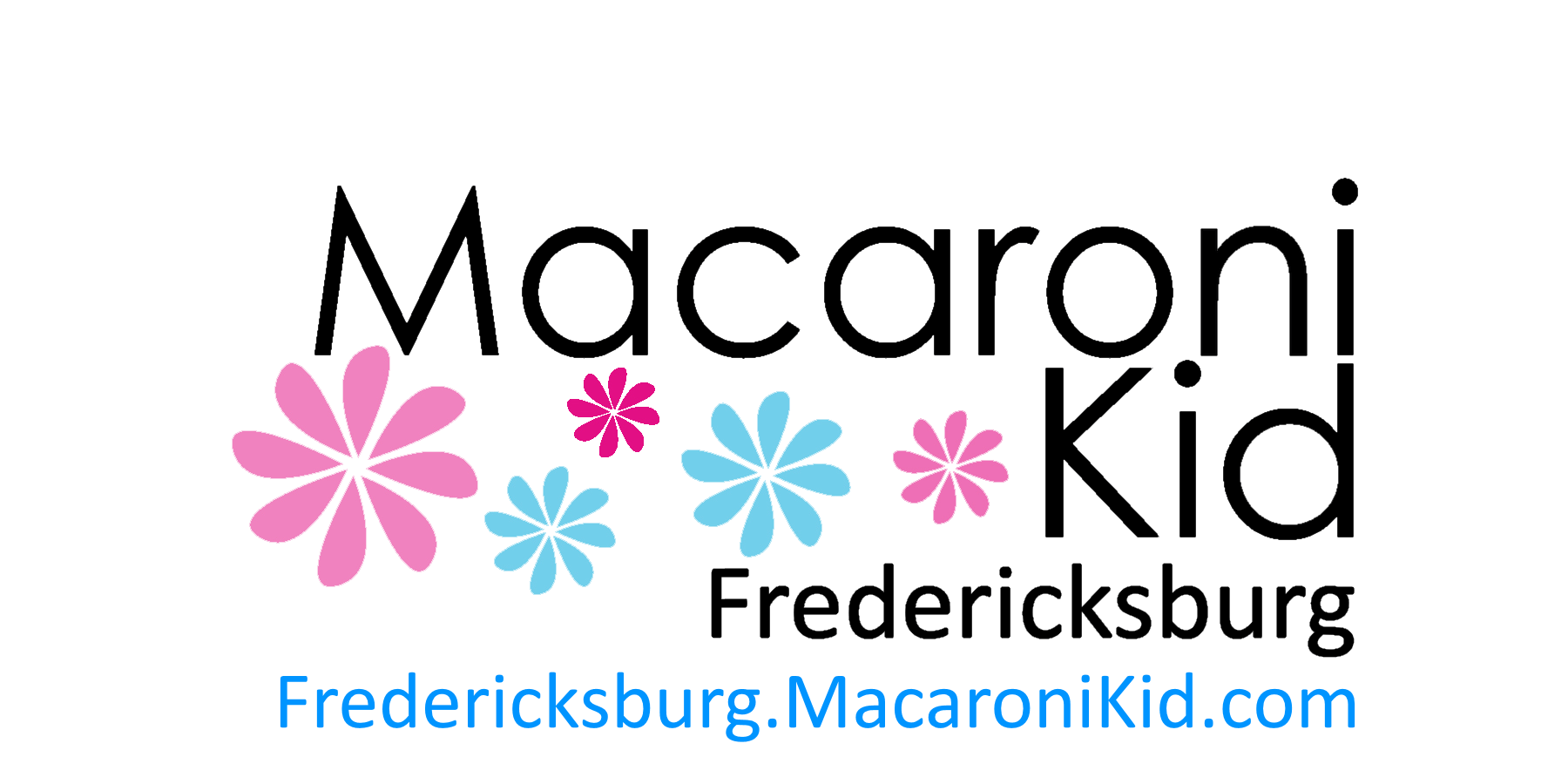 Get a FREE kid-friendly event calendar for families living in the Fredericksburg, Spotsylvania, Stafford areas, full of festivals, fairs, activities, events, and more! Sign up by clicking HERE!
Macaroni Kid Fredericksburg is a free weekly newsletter and website focused on fun family events and things to do with kids in the Fredericksburg, Spotsylvania & Stafford areas. We gather together all kinds of local family events and activities each week and add useful information about classes, family-focused businesses, book and product reviews, recipes, crafts, school and camp guides and more. We proudly serve families in Fredericksburg and the surrounding region. Sign up for our newsletter and never miss another awesome event again! Subscribe here for FREE at https://fredericksburg.MacaroniKid.com/subscribe
Please note: Information is provided to us by the businesses listed. Parents should always do their own research when selecting programs for their children.