We've been through the ringer these last couple of years, haven't we? During these uncertain times, let's remember what approaching season is all about. It's not about how many gifts you have to buy, but the memories you make. When's the last time Christmas gave you goosebumps? Our Magical Santa Sessions do that to me when I see your children fill with excitement!
Hi, I'm Susan Stoddard, owner/photographer at Sue Bee Photography. For our third year now, I've created Santa's cabin. Each year it grows for even more magic. Santa's cabin is where he takes time out of his busy schedule at the North Pole for special time with your children and family. You are warmly welcomed into his magical cabin with a big "Ho, Ho, Ho". Kids' faces light up. You get to see Christmas through their eyes. How amazing is that, right? The cabin is filled with warm accents and vintage toys from Christmases past. Hopefully, you'll find something that is very nostalgic to your own past and those warm memories will fill your heart.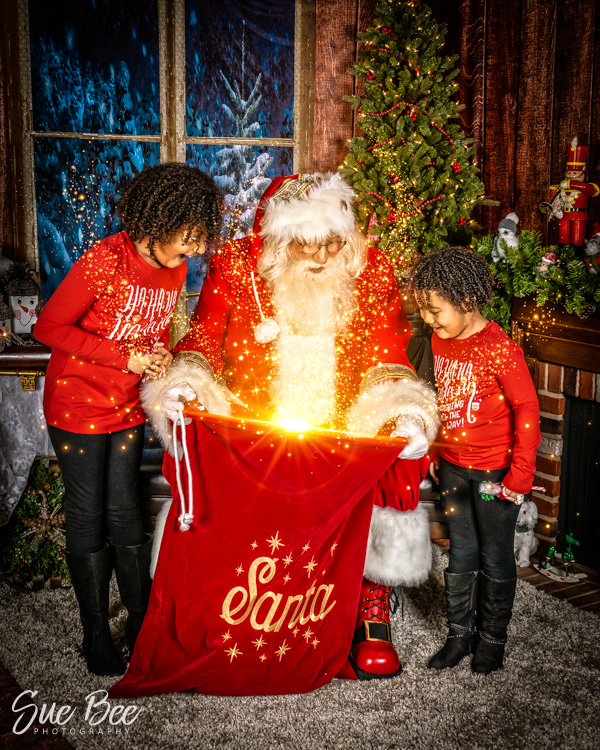 During your stay, Santa will read "The Night before Christmas", answers lots of questions about the North Pole, Elves, Mrs. Claus, reindeer, and whatever else may pop up. He can also have personal gifts for each of your children given from his bag. You'll see his magical view of the North Pole so he can check on his elves. Your time with Santa is very interactive. Who wouldn't love a snowball fight with the big man himself? Maybe a nerf gun fight is more your style, we can do that. You never know what magic will pop up at the cabin. Oh, and of course, he'll be asking your children what they want for Christmas!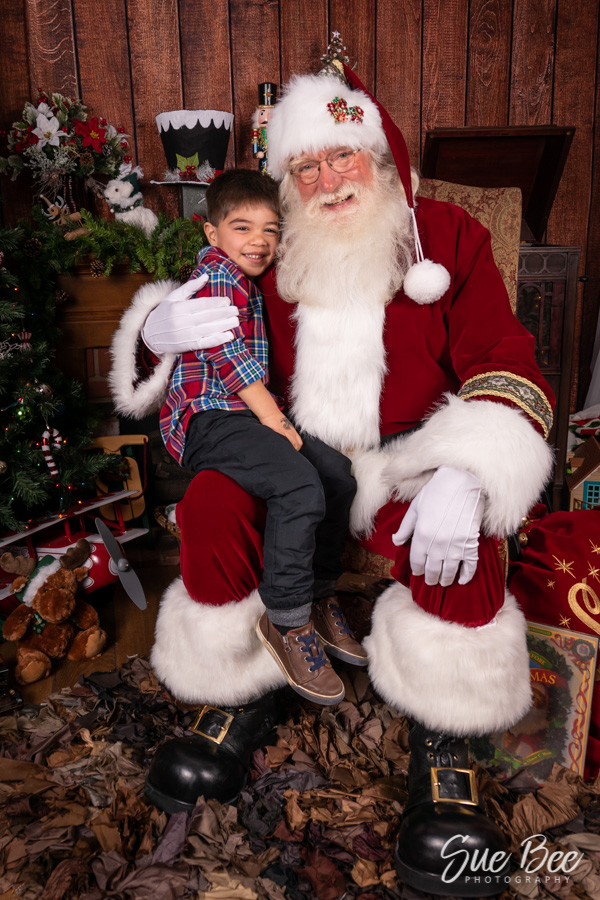 All of this starts with a meeting with one of his local elves, Me! We discuss how your session needs to be custom tailored for your children or family. I show you the products available with the packages and other customizable items. When you decide the magic of Santa's Cabin is for you, you leave with a personalized invitation for your family or just the kids.
After your session with Santa, we add extra magic to your photos. You'll see samples of this in the article. Whether it sparkles from his book, magical glow from his bag or secret sparkle dust from behind the tree, we make it into a treasured keepsake to be loved for many years. Once the edits are finished. You will visit the studio again to review the photos and complete your order.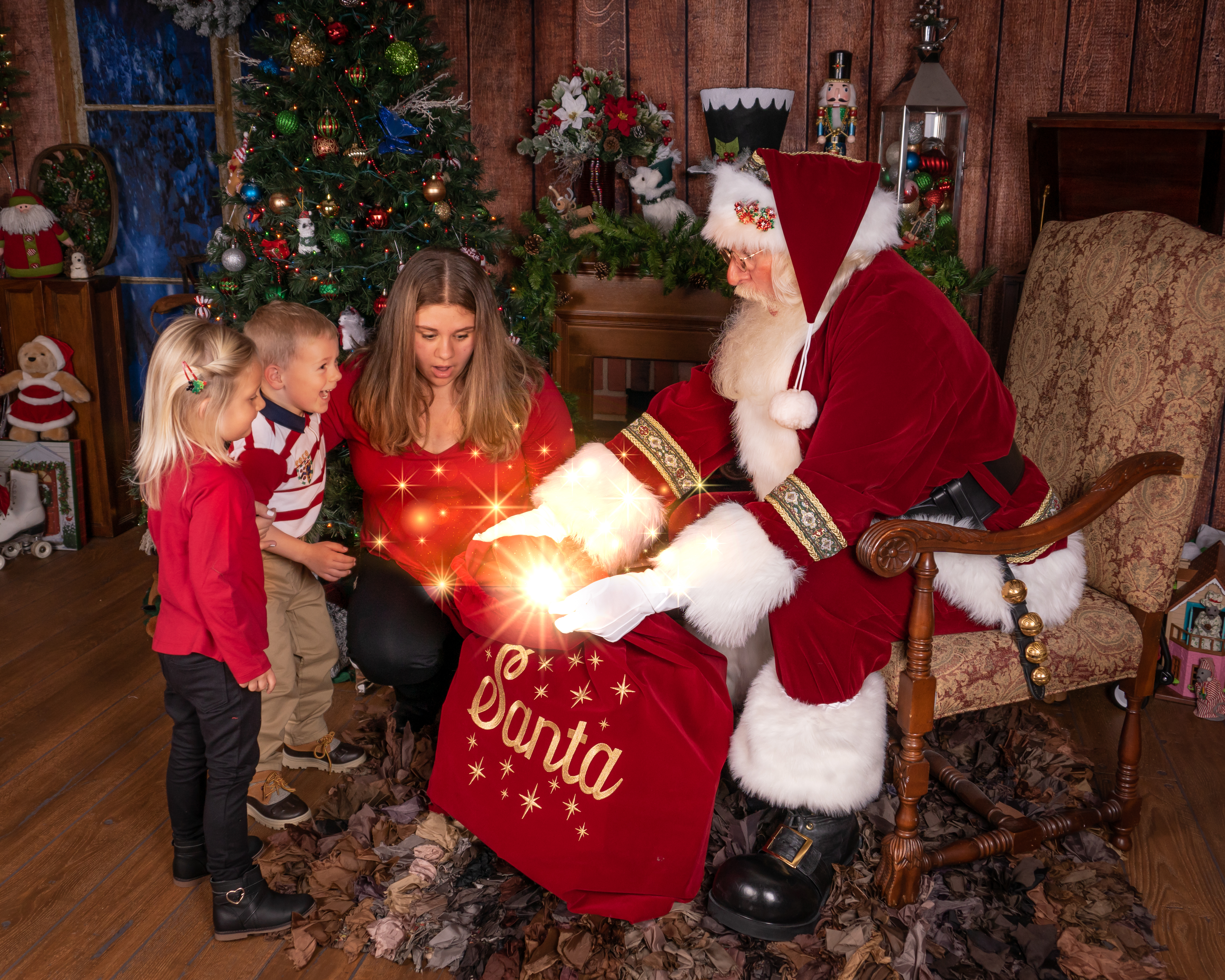 My studio strives on making memories, not just photos. We (other elves) build out each "scene" into something much more than just a backdrop and a chair. Now, don't get me wrong, we can do the classic portraiture, but for these types of sessions, the extras are what sets us apart. Because of the amount of time, sweat and sometimes tears that goes into the setups, we value you even more as a client. I know that may sound a bit odd, but you aren't just a number to us. We take the time to get to know you and your family. My photography is about capturing your life and making it memorable so that takes extra time. My studio is a boutique experience. Who doesn't love to be pampered a little extra? During our consultation, we have coffee, tea, water and snacks, if desired. It's a laid-back time to get to know each other a little. If you decide on wall art, we can come to your house a measure the spaces. We also hang the art so you don't have to hire someone else. If you decide on albums or smaller prints, we can deliver them to you as well. Life is too complicated to have to walk this process alone, let us help.
So, schedule your consultation today because Santa's time is limited. He is super busy this time of year. Let us help you create something amazingly magical for your family to have for generations.
Non-Santa sessions are available as well.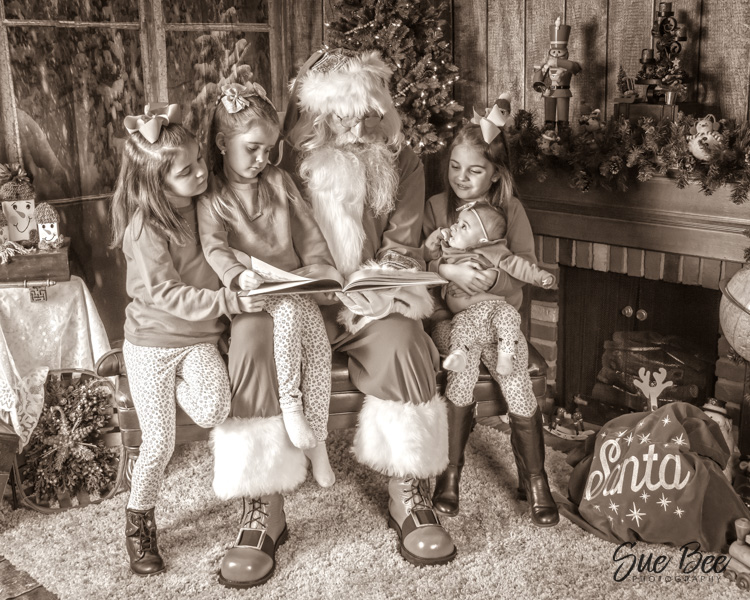 ---