Capturing memories is important and I just happen to love doing it with a camera. Photographs are things we can enjoy as time goes by, as well as things we leave behind to document the good and bad in life, the struggles and the triumphs, love, and loss, passion for what we like to do, the beauty of the world we live in and just plain old daily life.
I have captured memories with a camera for practically my entire life. I've owned many cameras, but it all started with my first: a Fisher-Price kids toy with viewing discs that rotated as you pushed the button and a fake flash cube that turned. It wasn't a real camera, but I sure did love it!
As I grew, so did my desire for a real camera. My sister and I would not so patiently wait for my parents or older siblings to get close to the end of a roll of film so we could take a few pictures. Even more exciting was if we were really good, we got to use the last of a flash cube! Those were the days! Back then, meticulously planning our one or two pictures that were ours alone was important. Film was expensive and you wanted to get it right, even though it would takes weeks to see it! When we were lucky enough to get a cherished flash, it was usually just one so we would have to share it. In the days of film, most people took their time and thought about each shot. Today, people often get in the mindset of "we can delete the bad ones" and in so doing, they forget to truly prepare for what they are trying to capture.
I have always taken pictures of everything! Travel, landscapes, nature, food, people or a good luck lipstick kiss on the back of a child's hand — you name it, I capture it! My first real camera was a gift from my parents as I embarked on a three-week cross-country sightseeing and backpacking trip. It wasn't anything fancy or expensive — a plain old 35 mm Vivitar film camera where you slid the cover over and took the picture, but it was MINE! I captured so many memories with that little camera. From tourist spots in major cities like NYC, Chicago, Denver, and St. Louis to plain old Wall Drug in South Dakota, to scenic landscapes like the view from my parent's front porch to the Rocky Mountains to giant sequoias and everything in between, friends and family, weddings and babies, my first time on an airplane, high school and college graduation and moving to California and walking on the beach of the Pacific Ocean for the first time — the list of memories captured goes on and on! I used that camera all the way through college and a move to California. After 7 years, it finally wore out.
It was sad to say goodbye to a trusty companion that literally captured years and years of my life. But it was exciting to upgrade to a 35mm Fuji that was still pretty plain but had capabilities to capture panoramic pictures! Have you ever traveled to Arizona and begged your husband to give you a boost onto the roof a friend's SUV just so you can capture a panoramic of saguaro cactuses at sunset? Followed lizards in the sand at Death Valley in 120-degree heat to capture their tracks? Laid down on the ground at Seattle's Space Needle to get all of it in one shot? I love photography!
I found the path to portraits in a weird way. Around the time of my engagement, I received a fancy Canon film camera from my fiancé. Having no idea what all the buttons and knobs were for, I read the manual and learned by doing. I put many a roll of film through that camera while traveling all over the west coast and Hawaii as well as taking pictures of our friends and their children. After a long engagement and due to lack of funds for a professional portrait photographer in the bay area, I decided, "Well I want this to be preserved in time," so I set the settings, posed myself and had a friend take my wedding portraits. Not just any place, but all over San Francisco. Yep, you guessed it, my first portrait session was of myself. I certainly had no idea of my future photography business at that time! My next portraits were of our first baby. My husband had gotten a digital Kodak camera thinking it would be cheaper than film and would last a long time. Little did he know it would be less than 9 months later that he gifted me my first Canon digital camera. Shortly thereafter, my business began to bloom. In the beginning, it was family and friends, senior portraits, then swim team, then dance and theater, and now after over ten years and a few camera upgrades since then, and I am still hooked not only on photography — but now in addition to things, I have found a passion for capturing people and their precious memories.
So you see, I wouldn't want any other job. There's nothing like capturing memories for people as they perform on stage, play their sport, prepare for a job or start a business, graduate from high school and college, or go into the military! And as for that first little plastic toy camera in my life — it is proudly displayed on my office desk, serving as its own snapshot in time. It's a reminder of the joy of capturing memories, a reflection on how far I have come, and a token of motivation to never stop craving to learn more about cameras and taking all types of pictures. Here are some recent portrait sessions.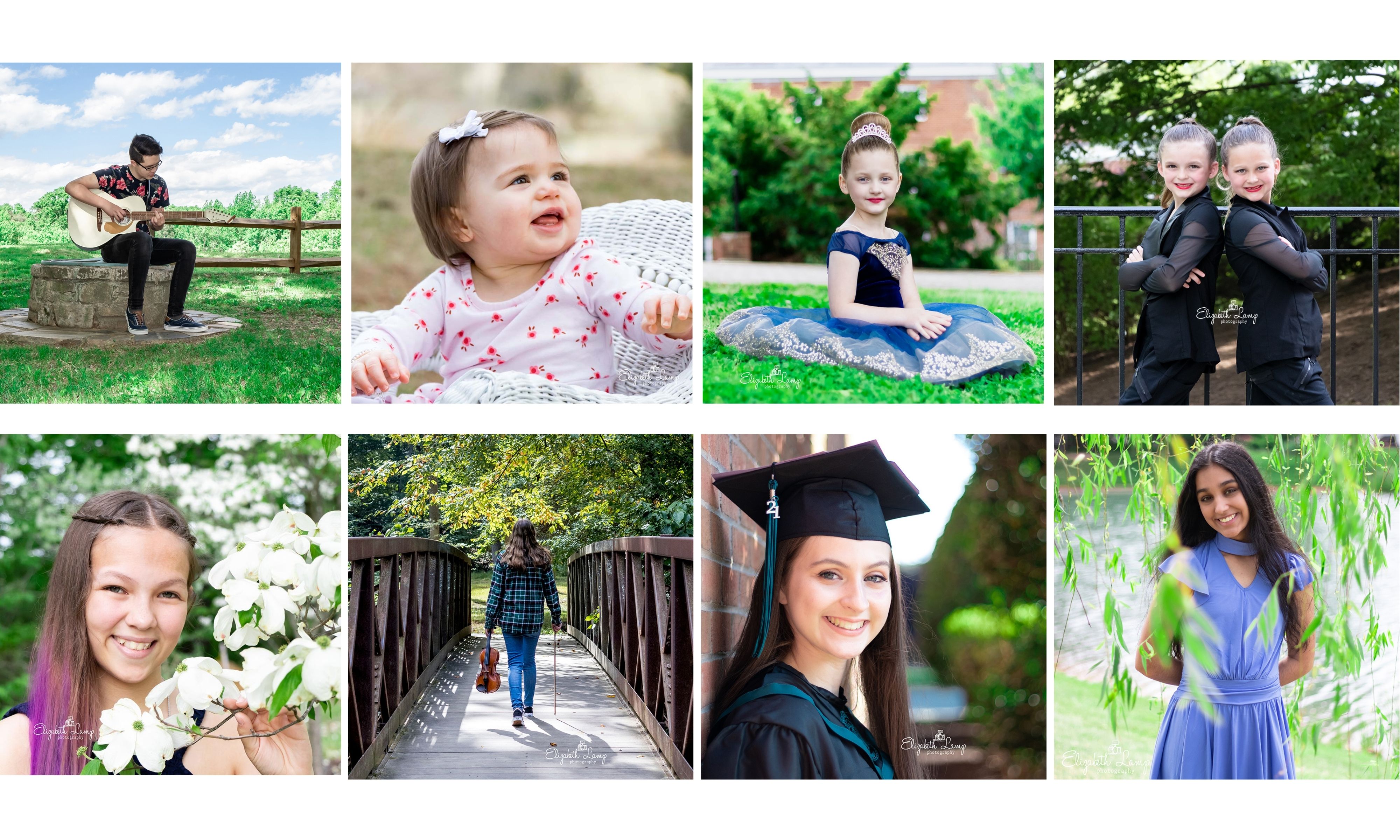 So let's talk about those hard-to-capture action shots!
Sometimes you need to hire a professional or use a "real" camera because let's face it, phone cameras are great for fun pictures here and there and the occasional smaller printed photo, but DSLR cameras still have important work to do! Case in point: I just finished a senior session of a wakeboarder on Lake Anna. His mom has taken fantastic pictures with her cell phone almost his entire life. She has tons of him jet skiing, water skiing, wakeboarding, tubing, you name it, she has them. Because she doesn't want a camera and only used her cell phone, prints are almost always blurry or grainy. So long story short, call in a professional or grab a camera to get the best shots you can.
Here are some tips and tricks I have learned over the years:
EQUIPMENT is important, but you don't have to go broke buying a camera, lenses and memory cards. Pick a camera and lens or lenses that are recommended for what you plan to photograph and always buy the fastest memory card you can. You can also find great deals on used cameras at reputable stores online, most even come with warranties.
KNOWING your camera is huge! Read the manual and keep it in your camera bag for those weird one-time hiccups. I recently left mine at home when I changed camera bags and when my camera did something I had never had it do before, I was like a fish out of water and clueless. Luckily I carry two cameras and finished the session with no problem, but man it makes your heart stop when you have issues.
EXPOSURE TRIANGLE is an integral part of all photography but especially when it comes to action shots. When you learn how shutter speed, aperture and ISO all work together, everything starts to make more sense! There are lots of books and free tutorials online so don't wait, dive right in.
FOCUS POINTS are hard to get used to. Know how your camera's shutter release button works, how it feels when you take a picture and when you press it halfway. After that, you can tackle all those little squares you see in the view finder. I know those squares can be overwhelming, so start with overall focus of the entire image. After that you can start practicing with the different types of focusing layouts until you get to focusing with one little square! Your manufacturer manual will come in handy here as well!
LIGHTING is important when you are trying to capture fast-moving subjects. Start with well-lit subjects and work your way up to dark and/or shadowed areas where it's handy to utilize your flash. As you practice, you will learn how flash, blur and panning gives your pictures different looks.
PROPER CAMERA HOLD is important. If you can't use a tripod, find something to rest your arms on like a fence railing, lean up against the side of a building or even sit down and put your elbows on your knees to steady your arms.
BREATHE and tell yourself "quality over quantity." People often panic and take a ton of pictures all at once hoping to catch something. You might catch one here or there but to truly get the good stuff, you have to work at it. Staying calm and breathing normally is key to crisp action shots.
ANTICIPATE what your subject will do. I saw a recommendation in a photographers group recently where they told beginners to practice taking action shots while watching TV. Their example was to watch something fast on TV like wildlife shows and take pictures of the TV screen. Their point was you are calm and at home, comfy on the couch learning your camera instead of at the park with your kids and irritated that you aren't capturing perfect pictures. When you know your camera and can capture the zebra or cheetah, then go out with the little ones.
SINGLE SHOT mode is best, instead of burst mode. To really learn when it's the right time to press the shutter button, you have to limit yourself to one shot at a time. There is a lag time when taking pictures and you have to learn how your camera responds and operates. So not only do you have to anticipate what your subject is doing, you also have to know what your camera will do.
GET OFF AUTO and try Manual when you make progress and feel a little more confident. Don't worry, it doesn't bite! The best way to learn to stop or blur motion on manual mode is to find a water fountain and practice away!
SHOOT RAW instead of jpegs when you really get confident. Try it! Jpegs are a fraction of what Raw is and you get to control the outcome of the end product. The downside is cost and time, but if you love photography, it is definitely something to think about in the long run.
PRACTICE! Even today with more than 30 years since my first real camera and over 10 of those working as a professional, I take classes every year and carve out time for practice.
Here's a sampling of the memories I captured for dancers during Creative Movement's 2020 Nutcracker!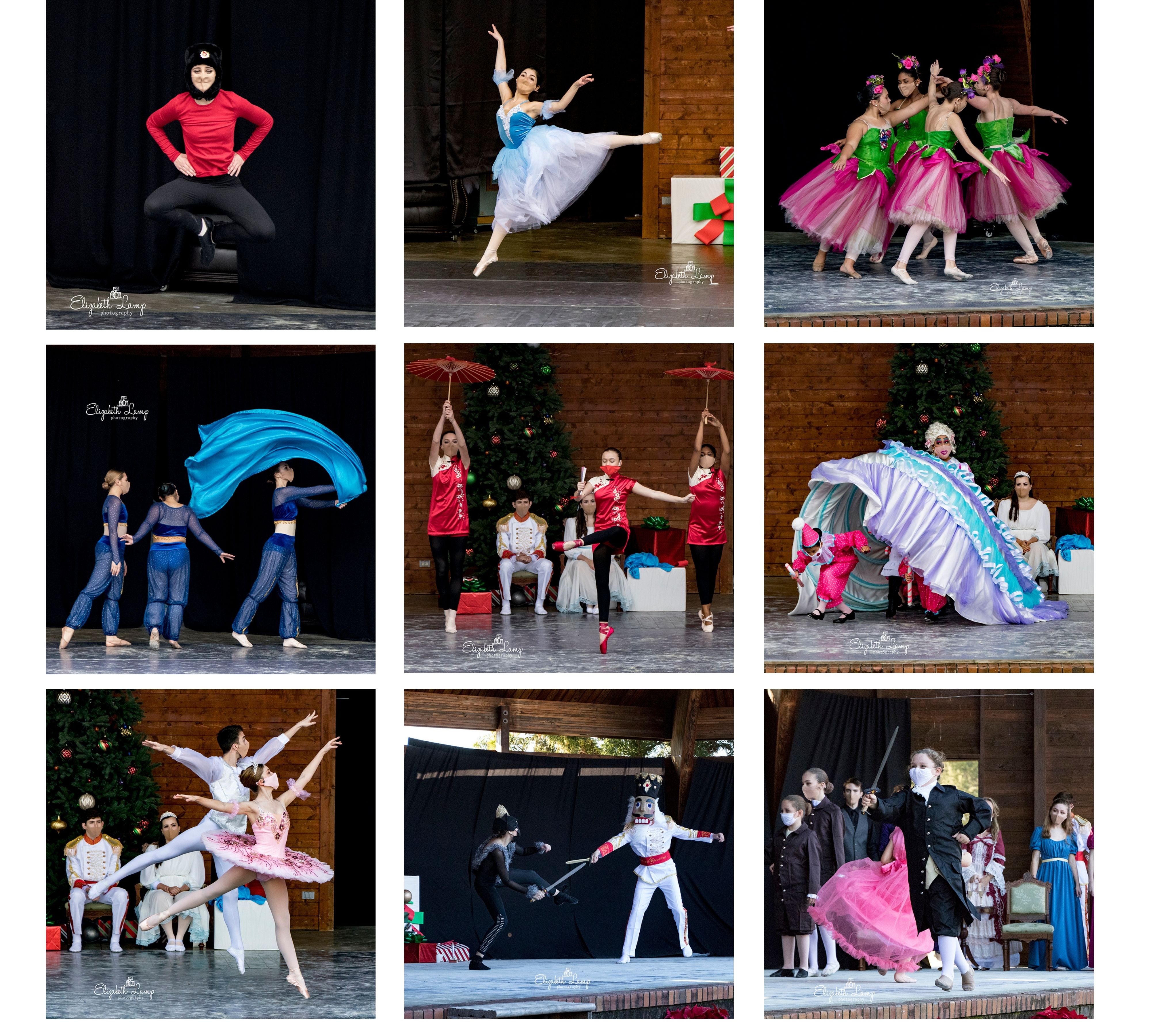 PS. Now don't get me wrong, I'm not a camera or lens snob in any way, shape, or form. I have owned many types of cameras but always go back to my "real" cameras. I use my phone camera just like everyone else, including times during vacation when you need a quick picture or you are at the top of a volcano and need a panoramic as the sun sets and the moon rises. I also love a good click and print camera for the fun stuff! I reluctantly used a polaroid for work years ago and ended up loving it so much I bought one. Fast forward 20 years and my girls convinced me to upgrade to an Instax mini. I only ever had one camera I truly disliked and it might be because it was billed as waterproof and clearly was not, since I only had about 10 minutes of shoot time while snorkeling at the Molokini Crater in Hawaii and then it failed!
Hope you enjoyed my tips and can't wait to meet you soon!
Happy Clicking,
Elizabeth
@elamp.photog for FB & IG
540-428-6452
My headshot in the snow must be credited to my husband. It's pretty rare you see a picture of me since I am behind the camera!