Have you been to Wilderness Presidental Resort recently? I have lived here my entire life and always thought that you had to be a member or time-share owner to go in. That's not the case!
In need of some sunshine and relaxation, our family took a trip to Wilderness Presidental Report this past week.
We stayed in one of the Cool Spring Lakeside cabins. The cabin was beautiful and clean. It had a kitchenette with a fridge, stove, oven, microwave - everything we needed. There was also a grill, picnic table, and a fire pit just outside.

The kids were excited to walk around the property and enjoy being in nature. After skipping rocks in the lake and trying to see if they could spot any fish, they were greeted by a family of geese and later some ducks.

We drove around the resort to get a look at what was available and stopped at one of the playgrounds for the kids to run around. After dinner, we headed to the front of the resort to play 18 holes of mini-golf.

We settled in for the evening, let the kids have a few minutes to splash in the hot tub, and then played a board game before heading to bed. (Tip: If you don't take your own board games, you can borrow one from the gym. They also loan out DVDs and sports equipment.)
Once the kids were in bed, my husband and I headed out to the deck to enjoy the hot tub for ourselves. It was so nice to sit outside in the hot tub jets with a nice breeze from the lake and the peaceful quiet of nature.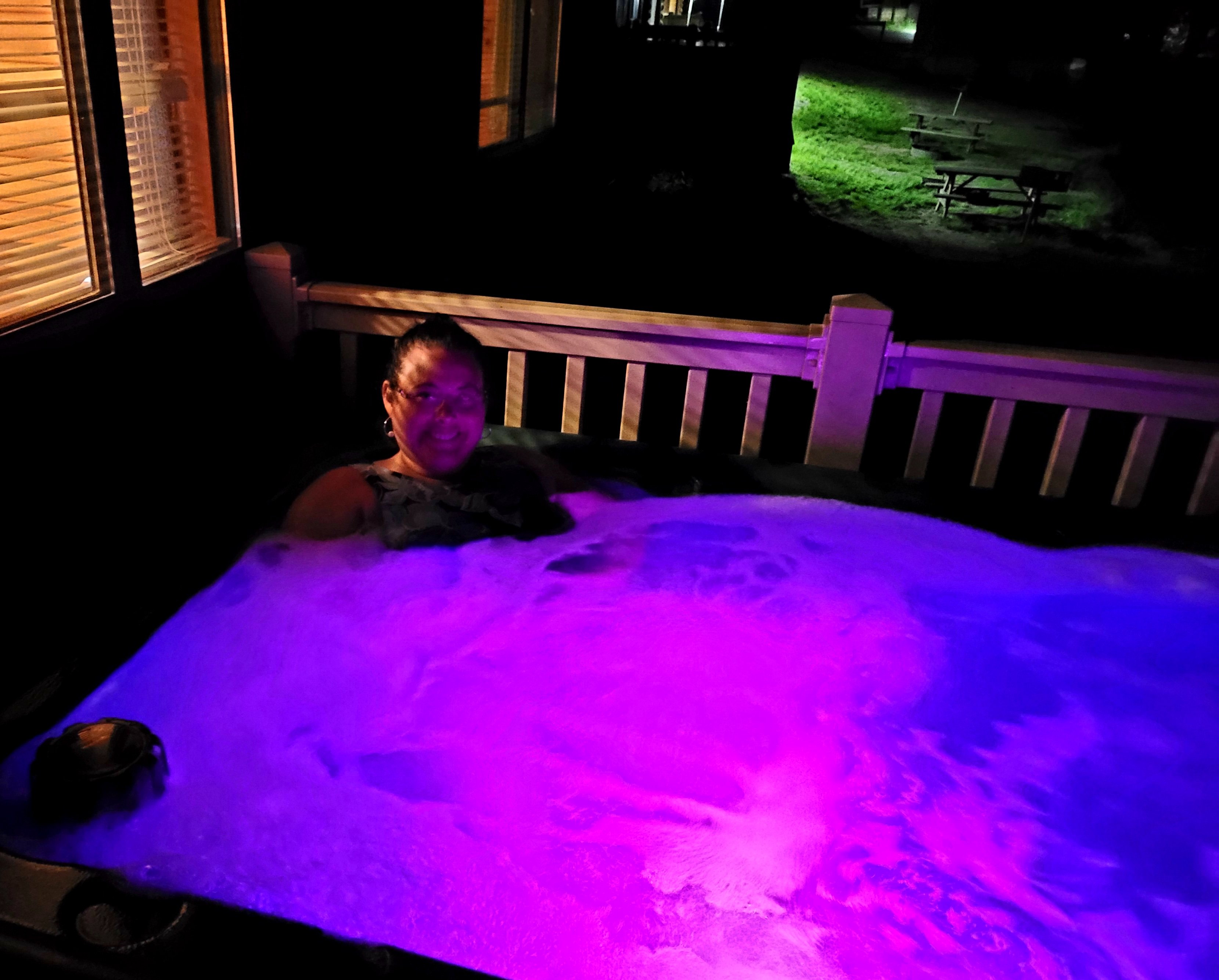 Everyone slept well and woke up ready to tackle another day of adventures. After breakfast, and a coffee on the deck admiring the view, we headed off to the heated indoor pool. We also got a glimpse of the outdoor pool, which isn't open for the season yet but looks like a lot of fun. Across from the pool, we spotted the frisbee golf course, which we plan to try on our next stay.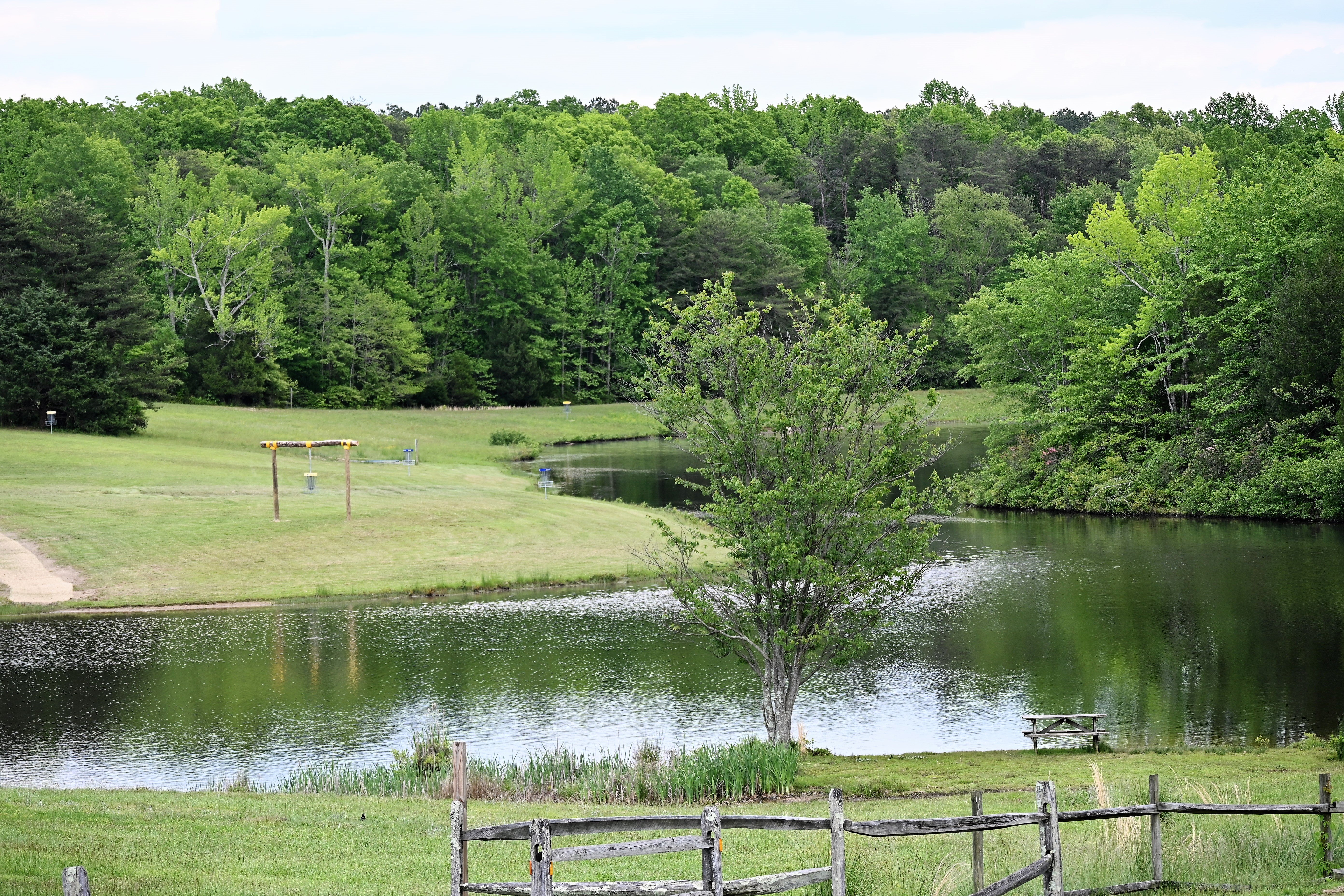 From our cabin, we were able to see the paddle boats, so our kids were extra excited to give them a try. We walked over the suspension bridge and took out 2 paddle boats. We were able to paddle around the entire lake and see things from the water that we had seen from land. We had a few ducks swim with us for a while and saw a heron walking through the shallow water's edge. The kids were a little too short to paddle, but my legs got a good workout during our hour out on the water.

And of course, before leaving we headed to the gem mining area where we got to try our luck at finding some fun treasures.

Not only did we have a lot of fun, but it was a great way to bond as a family. While the cabin did have a TV and wifi, we had so much fun together that we didn't need electronics. We have already decided that we need to head back for more adventures! Next up on our list is the Adventure ropes course, disc golf, rock climbing, Escape Room, canoeing, Knockerball®, archery lessons, and fishing!
Over the last few years, Wilderness Presidental Resort has been working to upgrade its facilities and they have a ton of great family fun for you to enjoy! From the Adventure Park to the Escape Room to the Marina activities, not to mention indoor and outdoor pools, mini-golf, gem mining, and a full list of crafts and activities. You can choose to come for the day to play, bring a tent, your RV, rent an RV or rent one of their fully-equipped cabins. Prices for activities are very affordable so you can plan to stay all day and play! If you plan to stay, be sure to look at the events calendar. It has lots of great activities including painting, campsite decorating contests, a family pool party and lawn chair movie night.
Wilderness Presidental Resort offers birthday party packages. They would also be perfect for a graduation party, bachelor/bachelorette party, or rent a few cabins together for a family reunion!
Wilderness Presidental Resort is located in Spotsylvania Virginia (about an hour's drive from Washington DC or Richmond, VA) and includes over 600 acres of beautiful woods and lakes. They are open 365 days a year and have great amenities for members and non-members alike.