Gardening is the perfect way to welcome in the warmer months and teach kids more about responsibility and the environment. Keep reading for the best tips and tricks to help embrace your little one's green thumb!
Best Plants:
Sunflowers: They sprout quickly, and the high yield is a great way to keep little ones engaged. They can take up lots of space, so only a few seeds are necessary. For some extra fun, harvest the seeds at the end of the season for a snack!
Nasturtiums: These are super easy to maintain and run their complete life cycle within a month or two. These plants can thrive in any soil type, making them perfect, no matter where you live!
Greens: From lettuce to cabbage, any leafy green is a great, reliable addition to your kiddo's garden. The type will determine the best time to plant, but many spinach and lettuce variants grow well in the heat!
Cherry Tomatoes: These are excellent plants for kids because they sprout relatively quickly and are easy to maintain. Plus, they provide a great snack to look forward to during the growing season!
Succulents: For those who may not have the best track record for plants, succulents are a great way to go. There is no need to worry about a missed watering as long as they have lots of sunlight. Stores like Home Depot and Lowes often have a large variety of these ready for you to take home!
Where to Pot:
Where to place your garden is one of the most critical questions in the book. Most plants require high sunlight levels, so if you have a plot in the backyard matching this description, start there. Experts say that allowing kids to have their own patch increases responsibility and pride in their final work! If your backyard is not ideal, don't worry, we have some great alternatives for you:
DIY Terracotta Pot: Stores like Lowes & Home Depot always have various sizes and shapes of these pots all year round. They are super easy to paint with acrylic or paint pens, allowing your kiddo to express their creativity! PS: Pick up a matching bottom piece to avoid messy drainage
Old Mugs: Take your spring cleaning to the next level by taking those extra mugs or cups and turning them into pots for your plants. No maintenance is needed unless you would like to drill a tiny drainage hole at the bottom.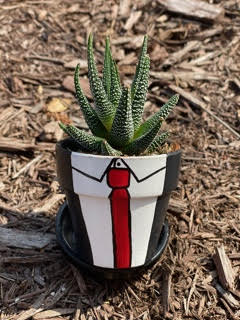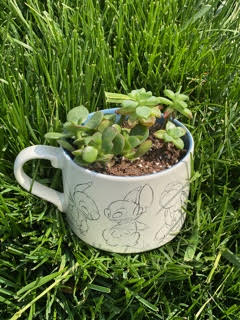 General Tips:
Use Real Gardening Tools: Unless you have extremely young kids try to avoid using plastic gardening tools. They can be extremely flimsy and hard to manipulate, making the gardening process frustrating. Most outdoor stores will have metal tools designed for kids!
Read the Plant Information Guide: Every plant has different requirements; thus, before you purchase, it's super important to ensure you have the right environment for the plant. If you don't have much sunlight or space, don't worry, there is a plant for everyone!
Label Your Plants: There is nothing worse than fertilizing the wrong plant or not knowing which bud is finally sprouting. Take a quick minute to label popsicle sticks or stones to help guide you through your garden. For an extra pop of fun, get crafty with it and add stickers, doodles, or whatever their heart desires!
No matter what you plant this year, remember to have fun with it & that these experiences will build a foundation for loving our planet!