The historic heart of Fredericksburg glimmers with the vibrant charm of the diverse and unique Downtown shops. One mother and daughter team seeks to shine that small-town light on global issues using education, outreach, and tea.
Freedom Society on Caroline Street is a traditional tea room and gift shop that sprung from Nicole and Karin Robyn's weekly cream tea mother-daughter dates in Barnstaple, England. Upon moving to Fredericksburg, the duo opened their own tea room, inspired by those special outings and energized by the community feel of Downtown.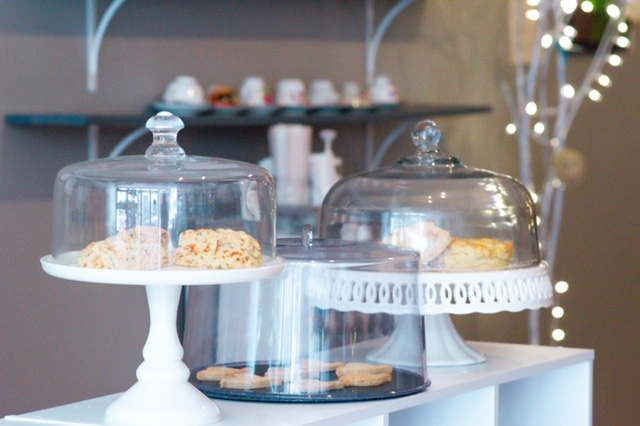 During their cream tea dates, owner Nicole and her daughter, creative director Karin, discussed and educated themselves on the worldwide crisis of human trafficking. The 2020 Trafficking in Persons Report (or TIP) describes human trafficking as "modern day slavery," which encompasses both sex and labor trafficking. Victims of human trafficking have nearly no way out of their bondage, and those who are liberated are often re-trafficked due to a lack of employment opportunities.
Nicole and Karin resolved to use their resources to find ways to bring freedom to survivors and grow awareness, starting with their new community in Fredericksburg. "All of our gifts are made by survivors of trafficking and our tea room helps to support child survivors of human trafficking," Nicole says. "We have also launched a membership of which the monthly fees are given to a different anti-trafficking organization each month."
Outreach programs such as regular educational events are used to bring awareness to the human trafficking crisis, and Nicole and Karin also highlight local organizations that work with vulnerable populations. "You can shop, eat with us, become a member, learn more about identifying trafficking, and support or volunteer with the many organizations combating trafficking," Nicole advises community members who are interested in getting involved.
Freedom Society currently has a number of special offerings. In addition to their tea, coffee, lunch, and sweet treats available daily, Nicole and Karin host high teas, with the option to enjoy in the tea room or to go. The shop displays handmade jewelry, cards, soaps, and other perfect gift ideas for Mother's Day. "We do virtual shopping appointments, wrapping...and help you host a virtual tea party." The tea room can even be rented for private parties.
To make a reservation, Nicole and Karin can be reached by phone or through their website. To-go services include curbside pickup and Grubhub delivery. For lunch, Nicole recommends their homemade chicken salad, "a crowd favorite," as well as their British scones with clotted cream and jam. For a refreshing and Instagram-worthy treat, try the bright blue Butterfly Lemongrass Iced Tea.
For more information about Freedom's Society mission and to make a reservation, go to www.freedomsocietyfxbg.com or call the tea room at (540) 212-4256.